01.09.2015 | Ausgabe 3/2015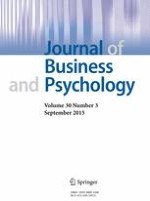 Work Passion Through the Lens of Culture: Harmonious Work Passion, Obsessive Work Passion, and Work Outcomes in Russia and China
Zeitschrift:
Autoren:

Ronald J. Burke, Marina N. Astakhova, Hongli Hang
Abstract
Purpose
This cross-cultural study with employee–supervisor dyads in Russia and China examines links between harmonious and obsessive work passion and four job- and organization-focused outcomes (job satisfaction, intentions to quit, job performance, and organizational citizenship behaviors) and two career-focused outcomes (career satisfaction and occupational commitment).
Design/Methodology/Approach
Data were collected from employee–supervisor dyads in Russia (
N
= 223) and China (
N
= 193). We undertook a series of hierarchical regressions to examine the hypothesized relationships.
Findings
We found considerable support for the harmonious passion–work outcome relationships and less support for the obsessive passion–work outcome relationships. In both Russia and China, harmonious passion predicted all six hypothesized outcomes. However, obsessive work passion predicted job satisfaction and occupational commitment in Russia, but was unrelated to any of the hypothesized outcomes in China. We also identified several culture-specific work passion–outcome relationships.
Implications
Our research extends the duality of the work passion construct to non-Western cultures. The examination of a variety of work passion outcomes provides a finer-grained approach to how two types of passion uniquely link to different work consequences. Several culture-specific findings refute the traditionally held assumption that harmonious passion relates to solely positive outcomes, whereas obsessive passion relates to solely negative outcomes. Collectively, the results augment the nomological framework of the passion construct. The study informs managerial practices by suggesting when work passion needs to be encouraged or tamed.
Originality/Value
This is the first study that examines a variety of job-, organization-, and career-focused outcomes of work passion in non-Western organizations.