01.12.2009 | Ausgabe 4/2009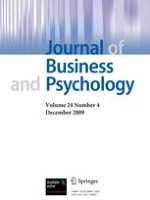 Workplace Romance: A Justice Analysis
Zeitschrift:
Autor:

Nina Cole
Wichtige Hinweise
Received and reviewed by former editor, George Neuman.
Abstract
Purpose
The purpose of this study was to investigate the impact of several variables on coworker perceptions of fairness regarding workplace romance (WR) management practices.
Design/Methodology/Approach
Data on actual real-life WRs were obtained through personal interviews with part-time and full-time employees who were also pursuing university studies (
n
= 100).
Findings
The results of the study indicate that most coworkers perceive managerial inaction regarding WRs to be fair unless (1) the WR is having a negative effect on the workplace, (2) the WR parties work in the same department, or (3) the organization has a WR policy. Managerial action was taken in only 11 of the 100 cases reported. None of the participants reported any positive effect of WRs.
Implications
In general, coworkers consider it fair for WRs to be accepted as a fact of organizational life and for no action to be taken unless there are negative ramifications of the WR. Contextual factors are important to coworkers who are assessing the fairness of managerial action regarding a WR, and managers can increase the chance of WR management being perceived as fair by taking these contextual factors into account when determining their actions in situations involving WR.
Originality/Value
Unlike a number of previous studies on WR, this research was based on real-life WRs, rather than scenarios. This study addressed a gap in the literature with respect to variables affecting coworker perceptions of fairness regarding WRs.