2013 | OriginalPaper | Buchkapitel
12. World Trade Organization and the Global Risks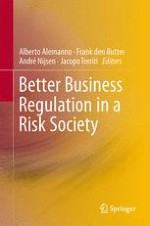 Erstes Kapitel lesen
Autor: Predrag Bjelić
Verlag: Springer New York
Abstract
The world economy has become important for economic development of countries and as a business environment for operation of global companies. In the last few decades the cooperation between countries concerning trade has reached unprecedented volumes but the rise in international trade has been followed by the rise in global risks. Apart from traditional commercial risks, countries and global companies are faced with wide variety of non-commercial risks, like political, societal and ecological risks.
In order to decrease risks in international trade countries have agreed to establish an international economic organisation as an important international legal instrument. In the area of international trade the most significant international intergovernmental organisation is the World Trade Organization (WTO). The basic principles of WTO guarantee non-discrimination and predictability in trade relations of WTO member countries. The WTO agreements establish the legal framework for international trading and these agreements have been put in place to decrease the risks of unpredictable acts of WTO member governments. But the most important achievement of the WTO is consolidation of tariff rates and elimination of risks from tariff escalations. Risk analysis is embedded in WTO regulations since some WTO agreements request that a scientific proof should be acquired when introducing some border measures in international trade.
In spite of the great efforts of countries to eliminate global risks, new risks constantly appear. Unregulated non-tariff barriers in the WTO framework are examples of risks to free movement of goods and services between countries that are still present. A new round of multilateral trade negotiation in the WTO must be successful in removing these obstacles to international trade. But ecological risks and competition for scarce natural resources between countries will represent significant risks in the future compared to commercial risks, and this has to be taken into consideration by the WTO.