2019 | OriginalPaper | Buchkapitel
11. Wrinkling Labyrinth Patterns on Elastomeric Janus Particles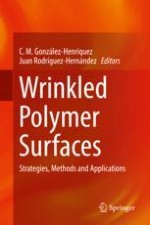 Erstes Kapitel lesen
Autoren: Ana Catarina Trindade, Pedro Patrício, Paulo Ivo Teixeira, Maria Helena Godinho
Abstract
Static and dynamic periodic patterns (stripes, wrinkles, and dots) are ubiquitous in nature, ranging from small wrinkles in soft materials (such as pumpkins, melons, nuts, and dehydrated fruits or even on animal's skin) to much larger wavelength buckles (such as in lava flows or in geological structures, as in the desert sand).
In our work, we developed a simple method to fabricate Janus particles (films, spheres, and fibers) from a single urethane/urea elastomeric material, with two different surfaces: one smooth and another wrinkled. Wrinkles were generated by selectively UV-irradiating one-half of the elastomeric particles and permanently imprinted by swelling and drying the particles in an appropriate solvent. More, the particle surface can develop diverse wrinkling wavelengths depending on the swelling conditions.
We are able to fabricate monodisperse Janus particles from a single elastomeric material with two different hemispheres: one "aged" (wrinkled) and another "young" (flat). The hierarchical tuneable surface features produced open new horizons for application of these particles as, for example, components in biosensors.