2022 | OriginalPaper | Buchkapitel
1. Wrong Intentions and Flawed Foundations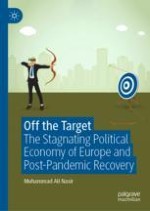 Autor: Muhammad Ali Nasir
Abstract
Built on flawed and uneven foundations a building can be raised to the Pleiades and it will still be neither strong nor straight. As the ancient wisdom says,
the loftier the building, the deeper must the foundation be laid
. The same logic holds for the architect of the Economic and Monetary Union of the European Union (EMU) which is the longest economic and political integration project with still work in process and no ending in sight.