2010 | OriginalPaper | Buchkapitel
17. Xenobiotics Removal by Membrane Technology: An Overview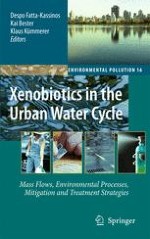 Erstes Kapitel lesen
Autoren: Andrea J. C. Semião, Andrea I. Schäfer
Verlag: Springer Netherlands
Abstract
Small molecular weight xenobiotics are compounds of extreme concern in potable water applications due to their adverse human health and environmental effects. However, conventional water treatment processes cannot fully and systematically remove them due to their low concentrations in natural waters and wastewaters. Biological limitation to degrade such compounds is another cause for inefficient removal.
Physical barriers like membranes possessing pore sizes smaller than the compounds to be removed emerged as a good solution. Nanofiltration and reverse osmosis proved to be quite effective for xenobiotics removal in potable water production in the Paris purification plant of Méry-sur-Oise. However, even these very narrow pore membrane processes may result in incomplete removal: xenobiotics retention is high but factors such as adsorption, size exclusion and charge repulsion affect unpredictably their retention. The water solutions complexity to be treated renders xenobiotics removal predictions even more difficult due to interactions between xenobiotics and compounds in water.
Removal of xenobiotics by microfiltration and ultrafiltration is very low because adsorption on the membrane is the main retention mechanism. Combining those with other processes (e.g. activated carbon) can considerably improve xenobiotics removal.
The least studied processes in xenobiotics removal are electrodialysis, membrane distillation and pervaporation. Electrodialysis removal of organic xenobiotics shows a breakthrough through the membrane possibly due to adsorption followed by diffusion. Membrane distillation presents high removal rates of xenobiotics due to the compounds low vapour pressure. For volatile organic xenobiotics or solutions of trace amounts both membrane distillation and pervaporation can be used, xenobiotics interaction with the membrane being the key factor.
In this book chapter a thorough synopsis of current knowledge on xenobiotics removal is presented and balanced with recent fundamental studies of underlying mechanisms, informing both the practitioner regarding membrane capabilities for xenobiotics removal and the researcher with the current state-of-art.