01.10.2016 | Original Contribution | Ausgabe 10/2016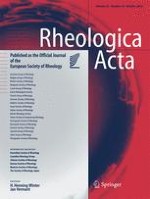 Yield stress and microstructure of washed oxide suspensions at the isoelectric point: experimental and model fractal structure
Zeitschrift:
Autoren:

Pek-Ing Au, Jishan Liu, Yee-Kwong Leong
Abstract
The yield stress and microstructure of washed, relatively monodisperse spherical zirconia (ZrO
2
) and titania (TiO
2
) suspensions at the isoelectric point (p
I
) were characterised. The yield stress was found to be dependent upon the particle size. At a given solid concentration, the finer suspensions produced a larger yield stress due to the higher particle concentration and hence, a greater density of attractive interaction. At p
I
, only the van der Waals force is in play. Vitrified fractal microstructures of these suspensions at p
I
were captured by cryo-SEM. A power law relationship described the (maximum) yield stress–volume fraction data for both oxides which is consistent with the prediction of scaling theory. An exponent value of ∼3 was obtained for both oxides. The fractal dimension (
D
f
) extracted from this exponent value of the scaling law for large aggregate cluster interaction in the slow flow regime was ∼2.3. The theoretical fractal structure with the same
D
f
constructed from monodisperse spherical particles based on the off-lattice variable-
D
f
model showed strong resemblance to the cryo-SEM imagery of the vitrified structure for both oxides.