2017 | OriginalPaper | Buchkapitel
5. Yushe Squirrels (Sciuridae, Rodentia)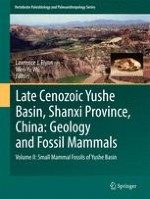 Erstes Kapitel lesen
Autor: Zhu-Ding Qiu
Verlag: Springer Netherlands
Abstract
Squirrels (Sciuridae) have been rarely recognized among surface finds of Yushe Basin. The sciurids described here are small samples of mainly isolated teeth recovered from the fossil deposits of Yushe Basin by screening in 1987 and 1988 with additions from 1991, but include six species from two subfamilies. They are
Tamias
cf.
T. ertemtensis
(Qiu
1991
),
Sciurus
sp.,
Sinotamias
sp.,
Marmota
sp. of Sciurinae, and
Pliopetaurista
rugosa
Qiu 1991 and
Hylopetes yuncuensis
sp. nov. (Pteromyinae). Among these squirrels, three taxa (
Tamias
cf.
T. ertemtensis, Pliopetaurista rugosa
, and
Hylopetes yuncuensis
) occur in more than one formation, with a temporal interval of 6.3 Ma to 3.4 Ma indicated by paleomagnetic stratigraphy. Morphological comparisons with species related to the chipmunk and the flying squirrel indicate agreement with a geologic span of late Miocene to early Pliocene for the fossil-bearing beds. The Yushe sciurid fauna is most similar in composition to those of Ertemte and Harr Obo of Inner Mongolia , strongly implying chronological similarity and biogeographical affiliation of these assemblages. However, the Yushe fauna contains proportionally more arboreal sciurids than the two Inner Mongolian faunas, and lacks the ground squirrel genus
Prospermophilus
, which is considered indicative of semi-arid grassland and is abundant in the Inner Mongolian faunas. This discrepancy highlights ecological distinctions between the Shanxi fauna and Inner Mongolian faunas, Yushe Basin being moister.