14.11.2016 | Original Contribution | Ausgabe 1/2017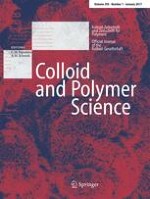 Zeta potential of PNIPAM microgel particles dispersed in water—effects of charged radical initiators vs. OH− ion adsorption
Zeitschrift:
Autoren:

Yuka Utashiro, Mizuki Takiguchi, Mitsuru Satoh
Abstract
It has been known that zeta potential (
ζ
) or electrophoretic mobility of poly(N-isopropyl acrylamide) (PNIPAM) gel particles in water significantly increase in the magnitude with increasing the temperature. This phenomenon has been interpreted as caused by an enhancement of the surface charge density, which was derived from charged initiator used for the gel preparation, due to the temperature-induced gel deswelling. On the other hand, it has also been established that oil droplets dispersed in water show a negative
ζ
, which has been ascribed to a specific adsorption of OH
−
ions from aqueous phase to the hydrophobic hydration layer around the nonpolar droplets. In the present study, we attempted to see if the OH
−
adsorption actually contributes to
ζ
of PNIPAM microgel particles prepared with four kinds of radical initiators including neutral one.
ζ
measurements were carried out to find that not only the neutral gel particles but also weakly cationic ones showed a significantly negative
ζ
at the higher temperature region where the gel collapse occurred.
ζ
values in the presence of 10
−4
M NaCl, NaOH, or HCl were also measured and proved to be consistent with the OH
−
ion adsorption mechanism.