01.01.2014 | Original Article | Ausgabe 2/2014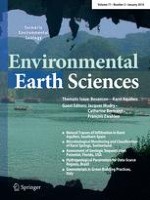 Zinc desorption kinetics in bean (
Phaseolus vulgaris

L.) rhizosphere in sewage sludge-amended calcareous soils
Zeitschrift:
Autoren:

H. R. Motaghian, A. R. Hosseinpur
Abstract
Desorption of Zinc (Zn) in the rhizosphere soil is the primary factor that affects bioavailability of Zn. To improve predictions of Zn availability in amended soil, it is important that time-dependent desorption behavior of Zn in the rhizosphere soil should be understood. The greenhouse experiment was performed to determine Zn desorption characteristics in the bulk and the bean rhizosphere soils amended with municipal sewage sludge (1 % w/w) using rhizobox. The kinetics of Zn desorption was determined by successive extraction with 10-mM citric acid in a period of 1–504 h at 25 ± 1 °C in the bulk and the rhizosphere soils. Moreover, Zn was extracted using three extractants (DTPA-TEA, AB-DTPA, and Mehlich 3) in the bulk and the rhizosphere soils. The results showed that Zn extracted and Zn desorption rate in the bean rhizosphere soils were significantly (
P
< 0.01) lower than in the bulk soils. The mean of Zn desorption in the bulk and the rhizosphere soils were 16.47 and 15.50 mg kg
−1
, respectively. Desorption kinetics of Zn conformed fairly well to first-order, parabolic diffusion, and power function equations. The results of kinetics study indicated that desorption rate coefficients decreased in the rhizosphere soils compared to the bulk soils. The correlation studies showed that the rate constants in the power function equation were significantly correlated (
P
< 0.05) with Zn extracted using DTPA-TEA, AB-DTPA and Mehlich 3 in the bean rhizosphere and the bulk soils. The results of this research showed that Zn desorption in citric acid in the bean rhizosphere of amended soils were lower than the bulk of amended soils.