2021 | OriginalPaper | Buchkapitel
1.
Zvimurenga

Reflections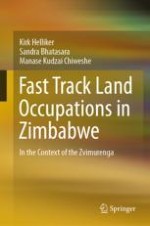 Autoren: Kirk Helliker, Sandra Bhatasara, Manase Kudzai Chiweshe
Abstract
To label the initial anti-colonial revolt (from the 1890s), the war of liberation during the 1970s and the fast track land occupations as
zvimurenga
is not without controversy. To portray them as such, without raising any objections, would be to accept the ruling party's rendition of the history of anti-colonial struggle, with this struggle—according to the party—being reactivated dramatically during the fast track occupations. The existence of white-owned agricultural landholdings twenty years into independence signified the ongoing presence of the colonial condition in Zimbabwe, and fast track restructuring undercut this agrarian condition in certain ways. However, recognising this does not entail an acceptance of politicised history-telling as articulated by the ruling party. Simultaneously, no clear analytical understanding of the occupations has been forthcoming in the Zimbabwean literature. This arises because scholarly analysis is ruled out from the start by the a priori conclusion that the occupations were initiated and organised by the ruling party. This chapter unpacks and analyses critically the ruling party's
chimurenga
discourse about the fast track land occupations, as well as the inadequate explanations of the land occupations offered in the scholarly literature.