Published in: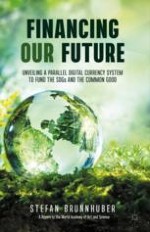 2021 | OriginalPaper | Chapter
1. A New Narrative for the Anthropocene Era: On Boundaries, Interconnectedness and the Global Commons
Abstract
Imagine a mechanism, a thought process, a collective behavior or a social invention with the potential to overcome absolute poverty within 18 months. One that leads to the protection of biodiversity, halts global warming, reduces water depletion, and mitigates fraud and illicit financial transactions, while simultaneously expanding school education, increasing access to health care and fostering global peace—all in one. Imagine this process being expedited through democratic channels more quickly and easily than through a lengthy global governance approval process; imagine it starting in less than six months with fewer than 250 staff. Imagine a mechanism that enables billions and billions of human beings on this planet to sustain themselves and their neighborhoods and take better care of the environment—all at once and all the time.