2020 | OriginalPaper | Chapter
A Nursing Care Intervention Model for Elderly People Adopting Self-care as a Central Concept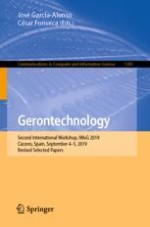 Read first chapter
Authors: Maria Goes, Manuel Lopes, Henrique Oliveira, João Marôco, César Fonseca, Margarida Santos, José Caeiro
Publisher: Springer International Publishing
Abstract
Objectives:
A core set of International Classification of Functioning, Disability and Health codes was used, to ascertain the general profile of functionality as a function of biological and sociodemographic characteristics and to determine systematized nursing interventions in accordance with self-care needs identified with the study of self-care behavior, in elderly living in extensive and sparsely populated rural areas.
Methods:
Data were collected by health professionals in the participants' houses. An exploratory factor analysis allowed reducing data dimensions. A bar graph was set as a measurement tool of nursing care needs as a function of self-care behavior and the functional profile level.
Results:
Regarding the nursing care needs, the produced model allowed inferring that "Support and Relationships" is the functional concept that presents higher levels of functional problems and, consequently, more need for self-care interventions, as well as people with age 85 and more always present therapeutic self-care deficits.
Conclusions:
The developed nursing care model might contribute to the development of health programs and a multidisciplinary/home support network that is more specific and effective at promoting functionality, preventing and compensating for disabilities, and enabling people to remain in their homes, with the quality of life that they deserve. This is a model a model of nursing care centered on the person and their caregiver, based on self-care.