04-02-2017 | Research Article | Issue 2/2017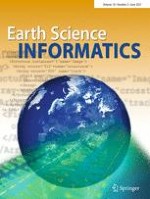 Accuracy assessment of near-shore bathymetry information retrieved from Landsat-8 imagery
Journal:
Author:

Keivan Kabiri
Important notes
Responsible editor: H. A. Babaie
Abstract
The improvement in the capabilities of Landsat-8 imagery to retrieve bathymetric information in shallow coastal waters was examined. Landsat-8 images have an additional band named coastal/aerosol, Band 1: 435–451 nm in comparison with former generation of Landsat imagery. The selected Landsat-8 operational land image (OLI) was of Chabahar Bay, located in the southern part of Iran (acquired on February 22, 2014 in calm weather and relatively low turbidity). Accurate and high resolution bathymetric data from the study area, produced by field surveys using a single beam echo-sounder, were selected for calibrating the models and validating the results. Three methods, including traditional linear and ratio transform techniques, as well as a novel proposed integrated method, were used to determine depth values. All possible combinations of the three bands [coastal/aerosol (CB), blue (B), and green (G)] have been considered (11 options) using the traditional linear and ratio transform techniques, together with five model options for the integrated method. The accuracy of each model was assessed by comparing the determined bathymetric information with field measured values. The standard error of the estimates
,
correlation coefficients (
R
2
) for both calibration and validation points, and root mean square errors (RMSE) were calculated for all cases. When compared with the ratio transform method, the method employing linear transformation with a combination of CB, B, and G bands yielded more accurate results (standard error = 1.712 m,
R
2
calibration
= 0.594,
R
2
validation
= 0.551, and RMSE =1.80 m). Adding the CB band to the ratio transform methodology also dramatically increased the accuracy of the estimated depths, whereas this increment was not statistically significant when using the linear transform methodology. The integrated transform method in form of
Depth = b
0
+
b
1
X
CB
+
b
2
X
B
+
b
5
ln
(R
CB
)
/ln(
R
G
)
+
b
6
ln
(R
B
)/
ln
(R
G
)
yielded the highest accuracy (standard error = 1.634 m,
R
2
calibration
= 0.634,
R
2
validation
= 0.595, and RMSE = 1.71 m), where
R
i
(
i
= CB, B, or G) refers to atmospherically corrected reflectance values in the
i
th
band [
X
i
=
ln
(R
i
-R
deep water
)].