01-12-2018 | Technical Paper | Issue 1/2018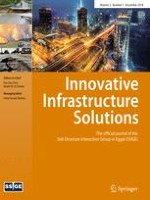 An experimental study to analyse the behaviour of piled-raft foundation model under the application of vertical load
Journal:
Authors:

Vikas Kumar, Arvind Kumar
Abstract
Piled-raft foundation nowadays has become the most popular foundation to be used in high-rise buildings. It has been found that traditional foundations are insufficient to take such heavy loads coming from the super structures in the form of self-weight, wind load and seismic load as well as combination of these. Apart from this even pile and raft foundations alone are not economical for these high-rise buildings. The parameters which affect behaviour of pile–raft foundation depend upon the properties of raft, pile and subsoil. In order to study the behaviour of piled-raft foundation, an experimental setup was designed and experiments were conducted on built model for raft foundation and piled-raft foundation in sandy soil at different relative densities. The experimental setup was aimed to investigate the behaviour of raft on settlement-reducing piles. Experimental tests are conducted on two different length and diameter of pile. The length-to-width (
L
/
B
) ratio for experimental study was chosen to be 0.67 and 2.0, where
B
is width of raft footing in prototype used and
L
is the length of pile. The diameters of pile used were of 10 and 20 mm size. The dimensions of the model raft used in the experimental study were 30 cm × 30 cm × 2.5 cm. The results of the experiments conducted on the designed model showed the effectiveness of using piles as settlement reduction measure with the rafts. Thus, it was concluded that as the number of settlement-reducing piles increases, the load improvement ratio increases and the differential settlement ratio decreases.