2018 | OriginalPaper | Chapter
1. Australian Mangroves: Their Distribution and Protection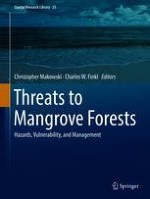 Authors: I. D. Cresswell, V. Semeniuk
Publisher: Springer International Publishing
Abstract
While coastal systems play a key role in the culture, economy and environment of Australia, perhaps the least understood of all Australian coastal systems are its mangroves and salt marshes. Subsequently their protection and conservation has not always been adequately or comprehensively addressed. At the national level there is no coordination of mangrove conservation with each State or Territory managing mangroves within its jurisdiction under a wide range of laws and policies. While at a broad level the importance of mangrove habitat has become better known, and decisions at local and state level in Australia now take into account the need to conserve and manage these coastal assets, over the past 30 years there has also been increasing development pressure which has resulted in clearing or degradation of many areas of mangroves. A national approach is required for implementing consistent management based not only on species but also on mangrove communities, using an approach of community assemblage combined with physical habitat, i.e., a "community-
cum
-habitat" approach, with assemblages viewed in an inter-related suite of habitats.
Current estimates of overall mangrove vegetation cover in Australia range from ~ 900,000 ha to over 1.1 million ha. Nearly every State and Territory in Australia has some mangrove-lined coastal areas but overall coverage is unevenly distributed because of climate and heterogeneity of habitat, with Queensland and the Northern Territory supporting 85% of Australia's mangroves. The distribution of mangroves along the Australian coast can be seen at the sub-continental level as a relatively simple relationship with latitude and climate but this does not account for the full complexity at finer scales where responses become more related to habitat variability, and/or effects of the hinterland in terms of run-off and seepage, and geochemically diverse soils.
Today, some 19% of mangrove area is in protected areas, however the comprehensiveness, adequacy and representativeness of that protection is unknown. One factor working contrary to their conservation has been the notion that "mangroves" are a single unit, ubiquitous along the coast and therefore their degradation has little impact on overall biodiversity or broader ecosystem services. This reflects that within Australia there has been limited adoption of ecosystem-based management and limited coordination of efforts across jurisdictions, and none for mangrove ecosystems. There is a requirement to understand mangrove distribution in Australia in relation to global trends in species diversity and the unique and heterogeneous suites of habitats within Australia.
To comprehensively capture the full biodiversity of Australian mangroves for conservation, it is necessary to address (1) species occurrences, (2) species at their biogeographic limits, (3) community assemblages incorporating structure and floristics, (4) the community-
cum
-habitat approach, and (5) assemblages in inter-related suites of habitats. Australia offers mangrove ecosystems that are globally unique with regard to floristic assemblages, structural and phenotypic responses to their climate and habitat settings, their community-
cum
-habitat expression, and suites of habitats.
Currently Australia's reserve system is ad hoc for mangrove communities with some areas having further "protection" through listing under international agreements. In terms of mangrove protection it is evident that World Heritage and Ramsar Convention listings provide additional levels of protection in addition to national designations as National Park, Nature Reserve, or any of the many other designations of protected areas. Other global conservation instruments deal with mangrove ecosystems only peripherally with no specific instruments providing additional protection for mangroves than exist within jurisdictional legislation.
By undertaking an adequate inventory of Australia's mangroves and their habitats, it will be possible to establish their global, national and regional (sub-national) significance. This will facilitate both conservation and sustainable development in areas where environmental impact assessment is needed. A national mangrove conservation strategy could deliver adequate inventory and management to support the conservation of Australia's mangrove systems.
There is a need to systematically
conserve mangroves in Australia nationally
and also given their global significance specifically to
conserve Australian mangroves from a global heritage perspective
.