01-11-2019 | Schwerpunkt | Issue 6/2019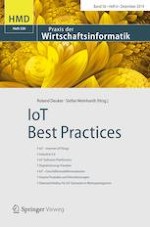 Cloud to Cloud Integration im IoT Umfeld
Journal:
Authors:

Lukas Hick, Dirk Börner, Henning Pagnia
Zusammenfassung
Das Internet of Things (IoT) ist ein wichtiger Baustein bei der Digitalen Transformation von Unternehmen und ein stark wachsender Markt. In dem Zeitraum von 2015–2025 wird laut einer Studie von IHS Technology eine Verfünffachung auf 75 Mrd. IoT-fähige Geräte erwartet. McKinsey beziffert den entsprechenden Markt für 2025 auf 11 Billionen US-$. Schon heute gibt es eine Vielzahl von Anbietern und Plattformen, die mit jeweils unterschiedlichen Kernkompetenzen einen Einstieg in das Themenfeld IoT bieten. Um Unternehmen spezifische Lösungen für deren konkrete Anwendungs- und Geschäftsprozesse zu bieten, gilt es die verschiedene Plattformen mehrwertbringend zu verknüpfen und so ein integriertes Gesamtsystem bereitzustellen. Eine vielversprechende Lösung für diese Problemstellung bietet die Cloud to Cloud Integration zwischen den verschiedenen Anbietern und Plattformen.
Um das Thema Cloud to Cloud Integration im IoT Umfeld genauer zu beleuchten, arbeitet dieser Artikel zunächst die aktuelle Situation auf dem Markt der IoT Plattformen auf. Diese Analyse, ergänzt um Experteninterviews, bildet die Basis der Anforderungen und Eigenschaften einer erfolgreichen Integration. Davon ausgehend beschreibt dieser Artikel erst ein Soll-Konzept und darauf folgend einen technischen Realisierungsansatz. Die ermittelten Anforderungen und Eigenschaften sowie das erarbeitete Konzept und die Architektur werden dann hinsichtlich des wirtschaftlichen Nutzens und Herausforderungen für Betreiber und Kunden einer solchen Integration diskutiert. Abgeschlossen wird der Artikel durch eine Zusammenfassung der Ergebnisse und einen kurzen Ausblick, welcher auch zukünftig mögliche Standards aufgreift.