2009 | OriginalPaper | Chapter
Corrosion and Its Treatment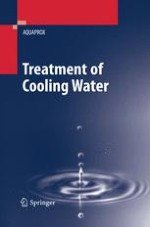 Author: Aquaprox
Publisher: Springer Berlin Heidelberg
The prevention of corrosion in the open recirculating cooling systems is a field, in which enormous progress has been made during the last twenty years.
It has widely been demonstrated that the total costs of anticorrosion treatment are very low compared to the savings realized by the reduction or absence of operating losses due to the stops and prolongation of the service time of the equipement.
In fact, the anticorrosion treatments are as important as the scale-preventing treatments, since it is the service life of the cooling unit itself that is at stake. The corrosion control ensures the durability of the equipment.