Published in: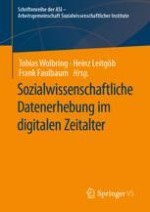 2021 | OriginalPaper | Chapter
Die Methoden der sozialwissenschaftlichen Datenerhebung im digitalen Zeitalter
Entwicklungen, Möglichkeiten, Herausforderungen
Das angebrochene digitale Zeitalter, treffend charakterisiert durch computers everywhere (Salganik 2018, S. 3), eröffnet den Sozialwissenschaften einzigartige Möglichkeiten des Erkenntnisgewinns und neuartige Forschungsfelder (z.B. Fussey und Roth 2020). Watts (2011, S. 266) sieht darin nicht weniger als "the potential to revolutionize our understanding of ourselfes and how we interact (…)". Gleichsam sind damit aber auch große Herausforderungen verbunden.