2013 | OriginalPaper | Chapter
Domain Modeling and Domain Engineering: Key Tasks in Requirements Engineering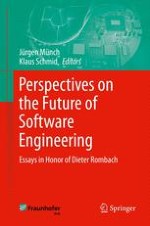 Read first chapter
Author: Manfred Broy
Publisher: Springer Berlin Heidelberg
Abstract
Requirements engineering is an essential part of software and systems development. Besides the elicitation, analysis, and specification of the intrinsic system requirements as a basis for these activities, it also involves the elicitation, analysis, and specification of the information about the application domain (also called problem domain or domain for short: includes terminology, concepts, and rules). The result of this activity is an elaborated domain model, which is a model of the relevant parts of the application domain.
Roughly speaking, a domain model for a system or software development task comprises the following parts:
The domain ontology rules, laws, terminology, and notions describing the relevant terms giving an ontology/taxonomy of the domain and specific rules and principles

Concepts, data types, and functions

Rules and laws

The

context model,

which describes the general properties of the system's environment. This includes the operational context such as software systems, physical systems, and actors, encompassing users in the environment, properties of the physical environment in case of cyber-physical systems, as well as the wider business and technological context.
These aspects can be captured by adequate data models.
The domain model collects all the information about the problem domain that must be known and understood to allow capturing requirements for the system, specifying them, implementing and verifying the system. The detailed system requirements, however, are not part of the domain model, but they are based upon it.
Ultimately, the domain model is a collection of knowledge about the application domain at an adequate level of abstraction—including the use of modeling techniques where useful.