2020 | OriginalPaper | Chapter
2. Energy Fundamentals in 'English'—
Understanding There Is No Free Lunch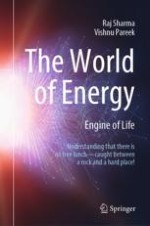 Read first chapter
Authors: Raj Sharma, Vishnu Pareek
Publisher: Springer Singapore
Abstract
Energy is the capacity to do work.
From the mundane to the complex, all mechanical action is work. Raising an arm, lifting a glass, walking, riding a bicycle, running a car, flying an airplane, sailing a ship, operating a washing machine, running an air-conditioner, operating a kitchen mixer/grinder, manufacturing products of modern day conveniences, sending a space ship to the moon, launching satellites, and many, many more, are all mechanical actions requiring energy—different kinds of energy, but energy all the same!
It is not necessary for energy to do work
—
it may or may not
—
but it has the capacity to do work.