2020 | OriginalPaper | Chapter
4. Examples of Supply Chain Decisions Trading Off Criteria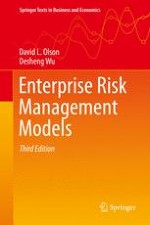 Read first chapter
Authors: David L. Olson, Desheng Wu
Publisher: Springer Berlin Heidelberg
Abstract
Five recent cases of risk management in supply chains are presented. The original multiple criteria analysis is redone in the framework of value analysis as was given in Chap.
3
. Through value analysis, attention can be focused on features that call for the greatest improvement.
Value analysis can provide useful support to decision-making by first focusing on hierarchical development. In all five cases presented here, this was accomplished in the original articles. Nonetheless, it is important to consider overarching objectives, as well as means objectives in light of overarching objective accomplishment.
Two aspects of value analysis should be considered. First, if scores on available alternatives are equivalent on a specific criterion, this criterion will not matter for this set of alternatives. However, it may matter if new alternatives are added, or existing alternatives improved. Second, a benefit of value analysis is improvement of existing alternatives. The score matrix provides useful comparisons of relative alternative performance. If decision makers are not satisfied with existing alternatives, they might seek additional choices through expanding their search or designing them. The criteria with the greatest weights might provide an area of search, and the ideal scores provide a design standard.