Published in: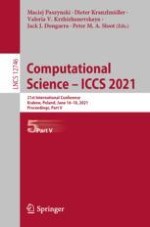 2021 | OriginalPaper | Chapter
Factors Affecting the Sense of Scale in Immersive, Realistic Virtual Reality Space
Abstract
In this study, we analyze and identify a proper scale value when presenting real world space and everyday objects in immerse VR. We verify the impact of usage of reference points in the form of common objects known to the user such as windows, doors and furniture in the sense of scale in VR. We also analyze user behavior (position, rotation, movement, area of interest and such) in the scale setting task. Finally, we propose optimal scale values for single objects presentation, architectural space with many points of references and a large scale space with less to no points of reference. The experiments were conducted on two groups: the Experts (architects) and Non-experts (common users) to verify the translation of real-world object size analysis skills into the same capacity in the virtual world. Confirmation of the significance of the pre-immersion in VR for a sense of scale accuracy is also described.