2021 | OriginalPaper | Chapter
47. First Principles Electro Optical Characterization of Semiconductors Perovskites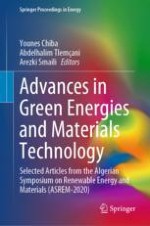 Read first chapter
Authors: Ahmed Redha Benrekia, Ayoub Nassour, Sébastien Lebegue
Publisher: Springer Singapore
Abstract
In this paper
,
we present a first-principles studies of two paraelectric perovskites KNbO
3
and CaTiO
3
in which we give a classical characterization, and add the photoconductive property, they can be used as optoelectronic compounds at furnace-like temperatures. We give also the photoconductive property of KTaO
3
and SrTiO
3
studied in previous article (Benrekia et al. in Phys. B 407:2632–2636, 2012 [
1
]) they can be used at cryogenic temperatures. These characterizations are done by the density functional theory (DFT) within the PBE and PBEsol and GW by the VASP software. The characterization concerns the structural, electronic, and optical properties. The DFT band gap energies defaults are corrected by the GW band gap energies and used to correct the optical properties of those compounds. The results are in line with the experimental values and theoretical results.