Published in: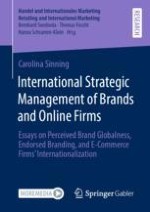 2022 | OriginalPaper | Chapter
1. Focus and Relevance
Abstract
Globalization, in terms of an increasing interdependence of countries, radically changed the business environment throughout the last decades. Worldwide competition rose and multinational corporations (MNCs) as well as e-commerce firms are more and more challenged when operating internationally. In this vein, MNCs have recognized their corporate brand and e-commerce firms the way they internationalize to be an important intangible asset to differentiate from competitors.