Published in: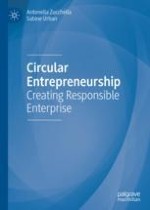 2019 | OriginalPaper | Chapter
1. From Circular Principles to Circular Entrepreneurship
Abstract
The world is changing rapidly with positive and negative aspects, both in socioeconomic life and in the planet's evolution. Growing imbalances do appear. A sustainable future for humans and nature is at risk. We must learn again to live in tune with nature and with one another. Nature is characterized by the dominance of circular movements that create through interconnected ecological relationships a viable environment, a kind of "given for all." Social life is not a "given," it is a "construct" largely initiated by entrepreneurship. "Circular entrepreneurship" is becoming a new, promising reality, in the manner of needed radical paradigmatic change. This chapter delivers a global overview of inherent problems and solutions in a systems-approach governing business dynamics and circular economy. Focus is also put on entrepreneurial multifaceted responsibility.