02-08-2019 | Original Article | Issue 4/2019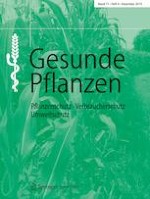 Growth and Seed Production Response of
Commelina Communis

L. to Water Stress
Journal:
Authors:

Muhammad Haroon, Yu Hai-yan, Cui Hailan, Li Xiang-ju
Abstract
A greenhouse-based in vitro investigation was carried out to determine the adaptation of
Commelina communis
L
.
to water stress and its deleterious influence on growth and seed production of
C. communis
. Plant height and number of leaves were regressed for two experiments (degree of water stress and durations of water stress) using three parameter sigmoid model. Different degree of water response for
C. communis
was 100%, 80%, 60%, 40% and 20% of field capacity (FC). Maximum plant height (85.58 cm) and number of leaves (92.96) with normal plant morphology, high seed and biomass production were recorded for 100 and 80% FC. However, a drastic decline was observed when water stress was increased (minimum plant height [20.83 cm] and number of leaves [21.87] was observed in 20% followed by 40% FC). Similarly, water duration responses were also considered for
C. communis
i.e. 2, 3, 4, and 6 days' durations following 100% of field capacity. The results showed an inverse correlation between duration of water stress and
C. communis
performance. As the duration of water stress were reduced, the plant height, number of leaves, biomass and seed production were increased. This proves that
C. communis
growth and production increases with high water content, whereas water stress significantly decreases its growth and seed production. Results of these experiments showed that proper water management in cropping system could be an important component to deal with the management of
C. communis.