2013 | OriginalPaper | Chapter
5. HIT as a Form of Microfinance in Asia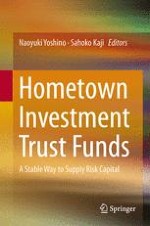 Read first chapter
Author: Yuka Morita
Publisher: Springer Japan
Abstract
In Chaps. 3 and 4, we discussed the achievements and potential of Hometown Investment Trust (HIT) Funds in Japan. This chapter takes a look at the application of HIT-type funds as a form of microfinance in other parts of Asia.
Microfinance: The Microfinance Market
. Microfinance is the collective name for financial services provided on a small scale. These services include not just loans, but also insurance, savings, and remittances. The services are mainly directed to the poorer segment of the population in developing countries. The institutions that engage in these services locally are referred to as microfinance institutions (MFI). The Microfinance Investment Funds for Millennium Development Goals that are managed by Music Securities, Inc., is a fund for the purpose of financing this kind of MFIs.