2020 | OriginalPaper | Chapter
How to Delineate the General Profiles of Functionality of Citizen's Aged 65 Years and Old as a Function of Its Age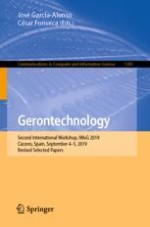 Read first chapter
Authors: Maria Goes, Manuel Lopes, Henrique Oliveira, João Marôco, César Fonseca, Margarida Santos, José Caeiro
Publisher: Springer International Publishing
Abstract
Objectives:
A core set of International Classification of Functioning, Disability and Health codes was used, to ascertain the general profile of functionality as a function of biological and sociodemographic characteristics, notably the age of the citizens.
Methods:
Data were collected by health professionals in the participants' houses. The factorial validity of the construct was assessed by a confirmatory factor analysis. An ordinal regression model was built to identify the general profile of functionality as a function of age.
Results:
It is expected that people under the age of 74 years will present no functional problems and that, after age 74, the most likely functionality problem will be a "MILD problem".
Discussion:
The functional profile of each elderly is interrelated with his or her sociodemographic context as well as with the overarching biological, cultural, and environmental characteristics of society. A progressive decrease in GPF occurs with age.
Conclusions:
The evaluation of each person (even those with no perceived or incipient levels of functional impairment who are at risk of progressing to a more severe disability) about what are the factors that are related with this functional decline as people get older, allows identify the respective nursing interventions to be developed.