01-09-2012 | Originals Originalarbeiten | Issue 5/2012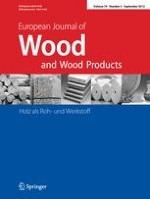 Influence of the degree of condensation of urea-formaldehyde adhesives on the tangential penetration into beech and fir and on the shear strength of the adhesive joints
Authors:

Ivana Gavrilović-Grmuša, Manfred Dunky, Jovan Miljković, Milanka Djiporović-Momčilović
Abstract
The objective of this work was to evaluate the influence of the degree of condensation of urea formaldehyde (UF) resins on the tangential penetration into fir and beech and on the tensile shear bond strength of wood joints.
Tangential penetration was determined by epi-fluorescence microscopy on microtome slides, exposing the bond line on a cross-sectional surface. The higher the degree of condensation (viscosity) of the resins, the lower is the possibility for penetration; beech showed higher penetration than fir.
Bond strengths decreased with increased degree of condensation (viscosity) of the adhesives. Shear strength based on radial penetration was higher than for tangential penetration. The higher the penetration and the thicker, hence, the interphase, the higher was the achieved shear strength.