01-06-2015 | Book Review | Issue 3/2015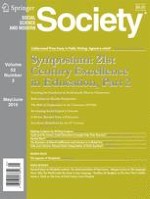 Lawrence J. Friedman,
The Lives of Erich Fromm: Love's Prophet

. New York: Columbia University Press, 2013, 410 pp. $29.95. ISBN: 978-0231531061; paper, $19.95. ISBN 9780231162593
Journal:
Author:

James J. Clark
Abstract
Erich Fromm was a highly successful popular author and psychoanalyst who played an important role as a twentieth-century social activist and public intellectual. Friedman's biography reveals Fromm's fascinating "lives" as a psychoanalyst, social theorist, cosmopolitan activist, and "prophet" of love who significantly influenced American thought and politics.