20-07-2020 | Issue 3-4/2020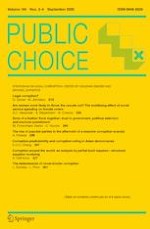 Legal corruption?
Journal:
Authors:

Oguzhan Dincer, Michael Johnston
Important notes
Publisher's Note
Springer Nature remains neutral with regard to jurisdictional claims in published maps and institutional affiliations.
Abstract
"Legal corruption" may strike many scholars as a contradiction in terms, but in fact the concept can be essential if we are to understand the sources and consequences of corruption issues in politics. The analytical definition of corruption, as such, is not settled. Legal standards likely are preferred to those based on social values, public opinion, or notions of the public interest. But those conceptions of corruption omit many kinds of activities that, while legal (or not clearly illegal), capitalize on abuses of public trust and official powers to produce outcomes regarded widely as unjust. Those sorts of activities help explain the recent rise of "populism" and its links to diffuse, but intense and broadly shared, senses of unfairness and elite excess. "Legal corruption" as a category has definitional problems of its own, but recent data show that it is worth close study and refinement because it offers critical insights into political issues that—while they may not fit traditional conceptions of corruption—nonetheless increasingly are important aspects of contemporary politics.