2009 | OriginalPaper | Chapter
Object-Oriented Programs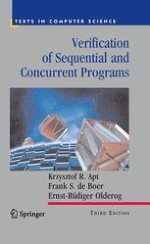 Read first chapter
Publisher: Springer London
In This Chapter we study the verification of object-oriented programs. We focus on the following main characteristics of objects:
objects possess (and
encapsulate
) their own local variables,
objects interact via
method
calls,
objects can be dynamically
created
.
In contrast to the formal parameters of procedures and the local variables of block statements which only exist
temporarily
, the local variables of an object exist
permanently
. To emphasize the difference between these temporary variables and the local variables of an object, the latter are called
instance
variables. The local state of an object is a mapping that assigns values to its instance variables. Each object represents its local state by a
pointer
to it.
Encapsulation means
that the instance variables of an object cannot be directly accessed by other objects; they can be accessed only via method calls of the object.