Published in: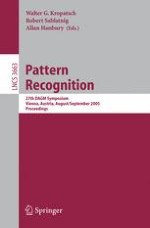 2005 | OriginalPaper | Chapter
On Determining the Color of the Illuminant Using the Dichromatic Reflection Model
Authors: Marc Ebner, Christian Herrmann
Published in: Pattern Recognition
Publisher: Springer Berlin Heidelberg
The human visual system is able to accurately determine the color of objects irrespective of the spectral power distribution used to illuminate the scene. This ability to compute color constant descriptors is called color constancy. Many different algorithms have been proposed to solve the problem of color constancy. Usually, some assumptions have to be made in order to solve this problem. Algorithms based on the dichromatic reflection model assume that the light reflected from an object results from a combined matte and specular reflection. This assumption is used to estimate the color of the illuminant. Once the color of the illuminant is known, one can compute a color corrected image as it would appear under a canonical, i.e. white illuminant. A number of different methods can be used to estimate the illuminant from the dichromatic reflection model. We evaluate several different methods on a standard set of images. Our results indicate that the median operator is particularly useful in estimating the color of the illuminant. We also found that it is not advantageous to assume that the illuminant can be approximated by the curve of the black-body radiator.