2014 | OriginalPaper | Chapter
Operator Approximation for Processing of Large Random Data Sets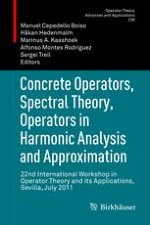 Read first chapter
Author: Anatoli Torokhti
Publisher: Springer Basel
Suppose
K
y
and
K
x
are large sets of observed and reference signals, respectively, each containing
N
signals. Is it possible to construct a filter
F
:
K
y
→
K
x
that requires a priori information only on
few signals
,
p
<<
N
, from
K
x
but
performs better
than the known filters based on a priori information on
every
reference signal from
K
x
? It is shown that the positive answer is achievable under quite unrestrictive assumptions. The device behind the proposed method is based on a special extension of the piecewise linear interpolation technique to the case of random signal sets. The proposed technique provides a single filter to process any signal from the arbitrarily large signal set. The filter is determined in terms of pseudo-inverse matrices so that it always exists.