2013 | OriginalPaper | Chapter
Protected Software Module Architectures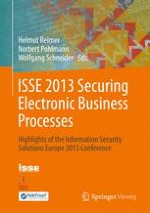 Read first chapter
Authors: Raoul Strackx, Job Noorman, Ingrid Verbauwhede, Bart Preneel, Frank Piessens
Publisher: Springer Fachmedien Wiesbaden
Abstract
A significant fraction of Internet-connected computing devices is infected with malware. With the increased connectivity and software extensibility of embedded and industrial devices, this threat is now also relevant for our industrial infrastructure and our personal environments. Since many of these devices interact with remote parties for security-critical or privacy sensitive transactions, it is important to develop security architectures that allow a stakeholder to assess the trustworthiness of a computing device, and that allow such stakeholders to securely execute software on that device. Over the past decade, the security research community has proposed and evaluated such architectures. Important and promising examples are
protected software module architectures.
These architectures support the secure execution of small protected software modules even on devices that are malware infected. They also make it possible for remote parties to collect
trust evidence
about a device; the remote party can use the security architecture to collect measurements that give assurance that the device is in a trustworthy state.
In this paper we outline the essential ideas behind this promising recent line of security research, and report on our experiences in developing several protected module architectures for different types of devices.