Published in: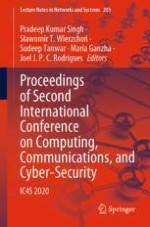 2021 | OriginalPaper | Chapter
Smart Aging Wellness Sensor Networks: A Near Real-Time Daily Activity Health Monitoring, Anomaly Detection and Alert System
Abstract
In the growing automation of existing world, activity modeling is being used in the field of technology to serve various purposes. One such field, which will be majorly benefited from daily activity modeling and life- living activities analysis, is monitoring of seasonal behavior pattern of elderly people, which can be further utilized in their remote health analysis and monitoring. Today's demand is to develop a system with minimum human interaction and automatic anomaly detection and alert system. The proposed research work emphasizes to diagnose elderly persons daily behavioral patterns by observing their day-to-day routine activities with respect to time, location and context. To grow the accurateness of the structure, numerous sensing as well as actuator units have been deployed in elderly homes. Popular this research paper, we have recommended a unique sensing fusion technique to monitor seasonal, social, weather related and wellness observations of routine tasks. A novel daily activity learning model has been proposed which can record contextual data observations of various locations of a smart home and alert caretakers in the case of anomaly detection. We have analyzed monthly data of two old-aged smart homes with more than 5000 test samples. Results acquired from the investigation validate the accuracy and the efficiency of the proposed system which are recorded for 20 activities.