31-05-2020 | Issue 8/2020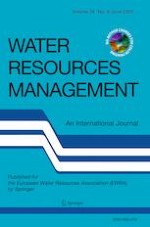 Techno-Economic Analysis of Residential Water Meters: A Practical Example
Journal:
Authors:

Víctor Manuel Fernández Pacheco, Rodolfo Espina Valdés, Enrique Bonet Gil, Antonio Navarro Manso, Eduardo Álvarez Álvarez
Important notes
Publisher's Note
Springer Nature remains neutral with regard to jurisdictional claims in published maps and institutional affiliations.
Abstract
As water is a scarce natural resource, one of the most crucial aspects influencing its management is the measurement of user consumptions. There are many studies which set out to analyze issues related to water meter accuracy from either a technical or economical point of view. This investigation proposes an approach that integrates both technical and economic studies to advise in the error evaluation and the units renewal decisions. The technical study includes a methodology for measuring the error produced at different flow rates and an analysis of the results obtained. In the economic study three methods – linked to different management strategies – have been outlined to make an adequate appraisal of the water meter replacement time. The procedure was applied to the water meter park of a medium-sized Spanish city. Results indicate that both measured volume and age contribute to the error evolution, and that there was no noticeable influence regarding either the transmission type or the brand. In the economic study, specific results related to the water replacement were obtained, and a sensibility analysis revealed the influence of the price of water, water meter cost and the cost of capital.