2021 | OriginalPaper | Chapter
15. The Grand Soothsayer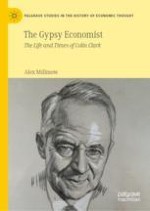 Read first chapter
Author: Alex Millmow
Publisher: Springer Singapore
Abstract
This chapter looks at Colin Clark's work in development economics, especially on population and resources which alleviated fears about mass hunger within the developing countries during the postwar era. Clark perceived enormous potential for growth in agricultural productivity within developing countries. As such, he would lead the crusade against neo-Malthusian pessimism about food and resources, arguing that population growth pushed farmers to improve their production techniques and lift output. Clark criticised the Food and Agriculture Organisation's estimates of the extent of world hunger which, he argued, were designed more to give support to Western farmers to produce large, uneconomical surpluses of grain. Where there was malnutrition the problem was attributed to political and distribution hurdles, not resource constraints. In
The Economics of Subsistence Agriculture
(1964) Clark explored how the bulk of the world's population, living within traditional agricultural settings, lacked basic amenities such as clothing, housing, medicine, education and transport. Transport was identified as the overriding factor holding back agricultural productivity.
Population Growth and Land Use
(1967) conveyed Clark's views about the interaction between population, the world's resources, urban settlement and economic growth. He surprised many by saying the real problem facing humanity was finding space for housing and recreation. He also elevated the issue of economic and regional stratification within societies.