01-05-2020 | Cover Story | Issue 5/2020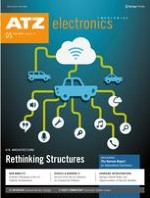 "The result will be a service- oriented zone architecture"
Journal:
Author:

Robert Unseld
User expectations regarding operation, comfort and services will be driven by electronics, which will result in new business models and increased speed of development. Gerhard Becker, Head of E/E Vehicle Engineering at Edag says that the E/E architecture must be developed significantly further in order to enable the platform and modularity in the vehicle and this will evolve via intermediate steps.
×
...