2019 | OriginalPaper | Chapter
Typography in Interactive Poetry: Gestures and Their Contributions to Reading Multiplicities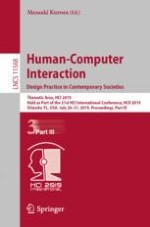 Read first chapter
Authors: Karine Itao Palos, Gisela Belluzzo de Campos, Andréa Catrópa da Silva
Publisher: Springer International Publishing
Abstract
This study investigates the ways in which visual poems have expanded their creation and interpretation possibilities in digital environments. A significant poetic contribution of these media is the possibility of physical interferences by the reader, thus transforming the reader into an interactor. Another fundamental element for the materialization of electronic poetry (or e-poetry) is typography. Contrary to what occurs on paper, it is possible to interact, deform and transform the types that constitute poems in digital interfaces, which brings the novelty of inserting gestures as creative poetry potentialities. In order to explore these hypotheses, this article comprises two stages. In the first, we will establish a relation between the following poems:
lygia fingers
(1953),
dias dias dias
(1953),
Poemóbile vivavaia
(1974) and
criptocardiograma
(2003), all by Augusto de Campos, and the theory raised by Plaza [
1
] concering the degrees of interpretation that influence interactivity. In the second stage, we will discuss the subjectivity of implicit gestures in digital poetry, based on two works:
Segundo Soneto Meio Barroco
(2000), by Alckmar Luiz dos Santos and Gilbertto Prado, and
Between Page and Screen
(2012), by Amaranth Borsuk and Brad Bouse.