01-09-2020 | Original Article | Issue 18/2020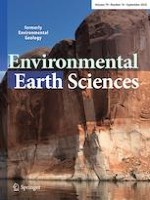 Water quality investigation in Brunei Darussalam: investigation of the influence of climate change
Journal:
Authors:

Stefan Herwig Gӧdeke, Owais Ahmed Malik, Daphne Teck Ching Lai, Anja Bretzler, Mario Schirmer, Nur Hakimah Mansor
Important notes
Electronic supplementary material
Publisher's Note
Springer Nature remains neutral with regard to jurisdictional claims in published maps and institutional affiliations.
Abstract
The majority of Brunei's drinking water is sourced from river water. Increases in population, and industrialization are putting more and more pressure on water resources not only in Brunei but worldwide. The management of water resources under a changing climate is of key importance. The goal of this study was to investigate if current water quality changes in Brunei can be related to climatic change
.
The study investigated time series data from water quality parameters as well as rainfall data measured over a 3-year period. The time series data was analysed using auto-correlation and partial auto-correlation functions. The results showed changes in climate evident from a decrease in precipitation and increase in rainfall intensity. These changes can be correlated with changes in water quality in particular a rise in aluminium concentrations. The highest correlation was observed between turbidity and colour, with a Pearson correlation coefficient greater than 0.8. The results from cross correlation showed that pH values tend to be low before the occurrence of rainfall, due to a dropping of water levels and the likely exposure of acid sulphate soils. Low pH values were correlated with higher aluminium concentrations which have been rising consistently throughout the observation period. The rise in aluminium concentration is correlated with a rise in abstraction from the river during the time period which underlines the importance of water management in a changing climate.