01-12-2016 | Original Paper | Issue 1/2017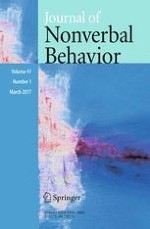 When Sharing a Laugh Means Sharing More: Testing the Role of Shared Laughter on Short-Term Interpersonal Consequences
Journal:
Authors:

Laura E. Kurtz, Sara B. Algoe
Abstract
Laughter is a common social behavior. Yet when, why, and how laughter may cause positive relationship change is largely unexamined, empirically. The current studies focus on
shared
laughter (i.e., when), drawing from theory in relationship science to emphasize the importance of conceptualizing laughter as situated within the dyadic context (i.e., why). Specifically, these studies target untested possible short-term outcomes from social interactions involving shared laughter: positive emotions, negative emotions, and perceived similarity. In turn, each are tested as possible mechanisms through which shared laughter promotes more global relationship well-being (i.e., how). A series of online and laboratory studies provide correlational and causal support for the hypothesis that shared laughter promotes relationship well-being, with increased perceptions of similarity most consistently driving this effect. Discussion focuses on the importance of considering the behavior of laughter itself, as situated within the social context, when making predictions about laughter's relevance for social life.