01-02-2014 | Methodologies and Application | Issue 2/2014 Open Access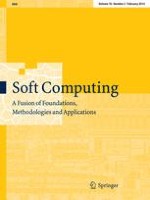 A study in facial regions saliency: a fuzzy measure approach
Journal:
Authors:

Paweł Karczmarek, Witold Pedrycz, Marek Reformat, Elaheh Akhoundi
Important notes
Communicated by G. Acampora.
Abstract
People recognize familiar faces in a similar way by using interior facial features (facial regions) such as eyes, nose, mouth, etc. However, the importance of these regions in the realization of face identification and a quantification of the impact of such regions on the recognition process could vary from one region to another. An intuitively appealing observation is that of monotonicity: the more regions are taken into account in the recognition process, the better. From a formal point of view, the relevance of the facial regions and an aggregation of these pieces of experimental evidence can be described in the formal setting of fuzzy measures. Fuzzy measures are of particular interest with this regard given their monotonicity property (which stands in a clear contrast with the more restrictive additivity property inherent to probability–like measures). In this study, we concentrate on the construction of fuzzy measures (more specifically,
\( \lambda \)
-fuzzy measure) and characterize their performance in the problem of face recognition using a collection of experimental data.