Published in: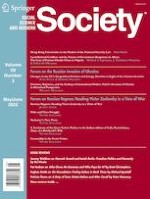 31-05-2022 | Forum Article: Russian Regress: Reading Victor Zaslavsky in a Time of War
A Testimony of the Great Terror Preface to the Italian Edition of Yulia Pyatnitskaya,
Diary of a Bolshevik's Wife
Published in: Society | Issue 3/2022
Login to get access
Abstract
Yulia Piatnitskaya was the wife of Osip Piatnitsky, a leading Bolshevik revolutionary and high ranking member of the Russian Communist Party. In 1937, he took the rare step of protesting mass arrests and executions ordered by Stalin, was stripped of Party membership, arrested, and killed. His wife's diary, begun after his arrest and detailing her fear of going mad, her suspicion that her husband might have been a 'foreign agent', ended with the arrest of her son and her own arrest and deportation to the slave labor camp where she died. Zaslavsky analyzes the document as pointing to the experience of numerous members of a legally defined category of persons subject to arrest: "Family Member of a Traitor to the Motherland." The exploitation to which these pariahs became subject is described. And the diary is used to suggest the psychology, the extreme mental disorientation, of a Bolshevik generation who suddenly and incomprehensibly felt crushed like "worms" under a "boot" they devotedly served.