15-08-2016 | Communication | Issue 11/2016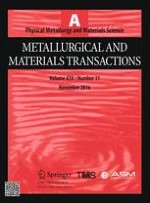 An Investigation Into 6-Fold Symmetry in Martensitic Steels
Authors:

Christopher Kinney, Ken Pytlewski, Liang Qi, Armen G. Khachaturyan, J. W. Morris Jr.
Important notes
Manuscript submitted April 11, 2016.
Abstract
Austenite grains that have undergone a martensitic transformation are typically composed of 24 variants that can be categorized by their Bain axis of transformation. There are 3 〈001〉 axes for Bain transformations, therefore the (001) pole figure of a prior austenite grain displays 3-fold symmetry. However, we observed superficially similar prior austenite grains containing 6-fold symmetry in the (001) pole figure. This paper introduces evidence of this 6-fold symmetry and explores the crystallographic origins.