2021 | OriginalPaper | Chapter
Batteries, Battery Management, and Battery Charging Technology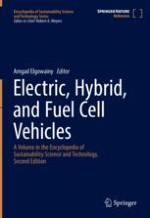 Read first chapter
Authors: Robert S. Balog, Ali Davoudi
Publisher: Springer New York
Abstract
Alternating current (AC)
Usually in the form of a sine wave, the bidirectional current flow continually reverses. Typically, AC will have a zero mean (average) and a nonzero RMS value. In the USA, most "grid" electricity is generated and distributed in the form of 60 Hz sinusoidal waveform. In other areas of the world, 50 Hz is commonly used.
Amp-hour (Ah)
A unit of electric charge, the amount of current delivered for 1 h.
Battery
A group of one or more cells electrically connected in series and/or parallel combinations to achieve higher voltage or current than what is capable from a single cell.
Battery management system (BMS)
An electronic device or system that monitors and controls a rechargeable battery. Parameters measured may include cell temperature, voltage, and current. From this data, the BMS can compute the state of charge of the battery and estimate the state of health, remaining cycle lives, or remaining service life. Typically, a BMS system will include the ability to communicate with a host system and battery charger. The BMS may also contain sensors and circuitry for protection such as over-current, over-temperature, or over-voltage.
Battery pack
A group of batteries or individual cells electrically connected in series and/or parallel combinations along with the required electrical interconnections, mechanical packaging, thermal management, and sensing circuitry. Because it is a self-contained assembly, a battery pack can be easily swapped in and out of the application.
Battery string
Series-connected batteries used to produce a higher voltage. The same current passes through all the cells, but each cell voltage can vary. Charge balancing becomes a significant issue for a long string of 50 or more cells.
C-rate
The rate at which a battery can deliver or accept current, stated in terms of the rated capacity of the cell in amp-hours. This may also be referred to as the hour rate, such as the 1-h rate.
Cell
An individual electrochemical device that converts between chemical energy and electrical energy. The cell construction, open circuit voltage, energy, and power density, all depend on the chemistry of the cell (see section "Battery Chemistries").
Coulombic efficiency
Ratio of charge delivered by a rechargeable battery during discharge cycle to the charge stored during charge cycle.
Depth of discharge (DoD)
An alternate method to indicate the state of charge of the battery; it is the reciprocal of SoC.
Direct current (DC)
Unidirectional current that continually flows only in one direction. Sources such as batteries, fuel cells, and solar cells produce electricity in the form of direct current.
Memory effect
An effect observed particularly in nickel cadmium batteries in which the cells gradually lose capacity when subject to repeated partial discharges followed by complete recharges cycles. This electrochemical effect is different than the loss of capacity due to aging and use. In some cases, a series of full discharge/recharge cycles can restore some or all of the lost capacity due to the memory effect but not due to cycle life or aging.
Proportional-integral (PI) controller
A type of linear feedback control in which an error signal is calculated as the difference between a measured signal and the desired reference set point. The controller attempts to adjust the operation of the process using a weighted combination of the present error (proportional term) and accumulated past error (integral term).
Primary battery
One-time-use batteries not capable of being recharged. They are discarded or preferably recycled once the stored energy has been depleted. These types of batteries will not be considered in this article.
Root mean square (RMS)
A scalar quantity that is computed from the square root of the sum of the squares of a dataset and is commonly used to represent a voltage or current over one cyclical period. Average power is the product of the RMS current and RMS voltage.
Secondary battery
Commonly referred to as rechargeable batteries, they can be repeatedly recharged electrically by passing current through them in the opposite direction to that of the discharge current. Secondary batteries are of significant interest for their ability to store and supply energy and are the focus of this article.
Self-discharge rate
The rate at which a battery discharges, or looses stored energy, due to internal cell reactions.
SLI batteries
Starting, lighting, and ignition (SLI) batteries are used in automobiles. These batteries are usually characterized by a high discharge rate.
State of charge (SoC)
Defined as the capacity left in a battery expressed as a percentage of some reference. SoC of a battery is usually expressed as a percentage of the current battery capacity when it is fully charged.
State of health (SoH)
A metric that reflects the general condition of a battery and its ability to deliver the specified performance compared with a fresh battery. It takes into account factors such as charge acceptance, internal resistance, voltage, and self-discharge. It is an estimate rather than a measurement.
Watt-hour (Wh)
A unit of energy, the amount of power delivered for 1 h. It is equivalent to 3,600 Joules of energy.