06-03-2018 | ARTICLES | Issue 1/2018 Open Access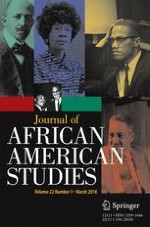 Black Farmers in the USA and Michigan: Longevity, Empowerment, and Food Sovereignty
Journal:
Author:

Dorceta E. Taylor
Introduction
When one thinks of Michigan, the image that first comes to mind is not one of rural agriculture, yet Michigan is an important agricultural state in the USA. In 2015, Michigan lead the nation in the production of several categories of dry beans, blueberries, pickling cucumbers, tart cherries, and squash and is second leading producer of asparagus, all dry beans, carrots, celery, and Niagara grapes (National Agricultural Statistics Service
2016
, p. 1). It is even more unlikely for people to conjure up images of black farmers when they think of Michigan, yet blacks—despite declines in their numbers—have a long and compelling history of farming in the state.
This paper uses the frameworks of environmental justice and food sovereignty to trace the history of black farmers in the USA and the state of Michigan. It analyzes the historical and contemporary constraints that black farmers face and their hardiness as it discusses how Michigan's black farmers respond to these challenges. It also discusses ways in which black farmers in the state perceive of and try to empower themselves as they enhance food sovereignty and food security in black communities. This paper provides a fresh look at black agricultural experiences through its focus on Michigan. To date, very few research papers have examined the topic of black farmers in Michigan. The comparison between Michigan and the rest of the country has uncovered interesting and enduring North-South relationships that are understudied and deserve more scholarly attention. The paper is also important because if we are going to reverse the trend of land loss and decline in farming among blacks effectively, we need to examine farming among blacks in much broader contexts than have traditionally been undertaken.
Conceptual Framework
This paper employs two conceptual frameworks—environmental justice and food sovereignty—to analyze black participation in farming. Environmental justice identifies and articulates racist and discriminatory acts that result in racial inequities in the environmental realm. Proponents of the environmental justice thesis assert that blacks and other people of color are subject to racist and discriminatory acts, policies, practices, and decision-making that result in racial inequities. Hence, environmental justice seeks redress for perceived unfair acts (Taylor
2000
, p. 536; Taylor
2014
, pp. 33–46). It is appropriate to analyze black agricultural experiences through the lens of environmental justice as there is extensive documentation of the links between agriculture and the emergence and perpetuation of environmental inequalities in black communities (e.g., see Taylor
2014
; Lerner
2005
; Bullard
1993
).
Food justice and food sovereignty are narrative frames that occupy critical spaces in the discourses about food production and sustainability. Food justice and food sovereignty discourses combine interest in sustainability and consumption of healthy foods with concerns about social justice, equitable access to healthy foods, and control over the production of said food. Minority-led food justice and food sovereignty movements are often rooted in environmental justice principles. Hence, they address inequalities in the food system by blending demands for human rights and sovereignty with the quest for social justice. Food sovereignty advocates believe that control of the means of food production, distribution, and consumption are critical elements to the empowerment and survival of blacks and other disadvantaged groups (White
2010
,
2011a
; Yakini
2010
,
2013
; Taylor
2000
,
2014
; Taylor and Ard
2015
).
A National Overview
Historical Context
Understanding Land Loss Among Black Farmers
There are several other factors that help to account for the decline in black farmland ownership.
Farmers' Cooperatives as a Survival Strategy
Early Efforts to Establish Black-White Alliances
Blacks developed cooperatives and used this collective action strategy to help them survive in the agricultural sector. Unjust work conditions on the plantations led to increasing militancy among blacks and attempts to forge alliances with white workers. At the end of the 1880s, a populist rural movement of agrarian radicalism, the Farmers' Alliance, swept across the South. However, members of the Alliance were hesitant to incorporate blacks into the movement. A black minister and farmer, J. W. Carter, resolved the stalemate when he organized the Colored Farmers' Alliance in 1889. By 1890, more than a million black farmers were members of the Colored Farmers National Alliance and Cooperative Union.
5
The organization helped members secure loans to purchase farms (Bennett
1993
, pp. 256–257; Tolnay and Beck
1991
, p. 24; Reynolds
2002
, p. 5; Knapp
1969
, pp. 57–67; Goodwyn
1976
, pp. 278–285; Hinson and Robinson
2008
, p. 288).
A separate form of collective action got underway in 1890. This initiative was modeled after the village improvement associations that started in New England and spread to the rest of the country.
6
In his desire to help black farmers break the cycle of debt and crop liens, Robert Smith, a principal from East Texas, formed the Farmers' Improvement Society. The Society established a buying cooperative and focused on helping families operate on a cash basis. The organization had 2340 members by 1900 in Texas, Oklahoma, and Arkansas and coop members owned 46,000 acres of farmland. They also organized the Farmers' Improvement Bank to help farmers obtain financing for their operations (Reynolds
2002
, pp. 6–7). Booker T. Washington and the Tuskegee Institute also helped blacks establish farms in the 1890s. Under Washington's guidance, the Southern Improvement Company was formed in 1901. The Company purchased a 4000-acre tract of land with funding obtained from a group of northern philanthropists; subdivided it and sold parcels to black farmers. Washington and Tuskegee also created the Tuskegee Farm and Improvement Company (also known as Baldwin Farms) in 1914. The Company, which remained operational till 1949, also purchased and operated an 18,400-acre tract of land in Alabama (Reynolds
2002
, pp. 7–8; Zabawa and Warren
1998
, pp. 467–469; Anderson
1978
, p. 114).
The USDA created the Cooperative Farm Demonstration Service in 1903 to limit the impact of the boll weevil on the lands of white farmers. When the outbreak spread and ravaged black farms, the USDA created a Negro Cooperative Farm Demonstration Service at Tuskegee Institute and hired black agents to serve black farmers. Even with the deployment of black agents to help black farmers learn about crops, some argue that the controversial Negro Cooperative Farm Demonstration Service was of limited success (Ferguson
1998
, pp. 35–36; Hersey
2006
, pp. 258–259).
The Southern Tenants Farmers Union
Despite limited success in building cross-racial farmer's alliances, blacks and whites joined forces in 1934 in Arkansas to form the Southern Tenants Farmers Union (STFU). The STFU tried to reform the sharecropping and tenancy system as the boll weevil, floods, and drought made it difficult for sharecroppers and tenant farmers to survive. The STFU helped to form the Unemployment League to put pressure on the Agricultural Adjustment Administration to create jobs for croppers and tenant farmers (Cobb
2008
; Griffin
1982
; Auerbach
1966
, pp. 3–74; Grubbs
1971
).
The STFU had more than 35,000 members by 1938. Though the organization lasted till about 1989, it was ineffective from the early 1940s onwards. Ideological differences over whether to join the Congress of Industrial Organizations or the Communist Party, debates over whether blacks should leave the organization, anti-communist infiltration, infighting, the emergence of the mechanical cotton pickers and tractors, and the Great Migration made the organization lose focus and influence (Cobb
2008
; Griffin
1982
; Auerbach
1966
, pp. 3–74; Grubbs
1971
).
Cooperatives in the Civil Rights Era and Beyond
The civil rights era ushered in a period of renewed emphasis on black farmer's cooperatives. Through the cooperatives, blacks pooled their resources to purchase farm supplies in bulk, share equipment, identify supply chains, expand their value-added operations, and consolidate their transactions to limit exposure to hostile merchants. Some merchants denied blacks known to be members of the National Association for the Advancement of Colored People (NAACP) access to supplies, credit, and markets. As a result, black farmers collaborated with each other to establish alternative supply chains for their produce. For example, in 1956, black farmers in Clarendon County, North Carolina formed the Clarendon County Improvement Association to counter the discrimination they faced because of their membership in the NAACP. When local bankers stopped issuing credit to members of the Association, the NAACP and the United Automobile Workers helped members secure other funding. Black farmers also formed the Grand Marie Vegetable Producers Cooperative, Inc., in Louisiana in 1965 to counteract racism and get their produce to market (Reynolds
2002
, pp. 2, 10–11; Daniel
2000
, p. 247; Marshall and Godwin
1971
, p. 51).
The National Black Farmers Association has argued that the lack of access to a broad variety of seeds puts them at a disadvantage. The group has spoken out against what it sees as the monopoly that Monsanto has on seeds. The National Black Farmers Association—that has about 80,000 members—also publicly opposed Monsanto's acquisition of Delta and Pine Land, one of the nation's largest cotton seed companies. Members of the National Black Farmers Association allege that they are unable to purchase seeds locally because of their stand against Monsanto hence they have to drive to different states to purchase the seeds needed for their farms (Boyd
2009
; National Black Farmers Association
2007
).
Similarly, one of the largest black cooperatives, the South West Alabama Farmers Cooperative Association, was boycotted by white merchants and harassed by politicians. This cooperative was formed in 1967. As black cooperatives proliferated, the Federation of Southern Cooperatives, also founded in 1967, was formed to serve as an umbrella group to organize the myriad of farmers' cooperatives, credit unions, and related community-based organizations. Within 2 years of its founding, the Federation had 24 agricultural cooperatives with 5982 members in its fold. By the 1970s, 50 agricultural cooperatives operated under the aegis of the Federation of Southern Cooperatives. The Federation merged with a sister organization, the Emergency Land Fund, to better position itself to deal with the crisis of diminishing land ownership among blacks. Today, the Federation has more than 70 cooperative groups and a membership of over 20,000 families (Voorhis
1975
, p. 212; Marshall and Godwin
1971
; Reynolds
2002
, p. 11; The Federation of Southern Cooperatives
2007
,
2017
).
Black Farmers Today
In 2012, the agriculture census reported that the country's 46,582 black farm operators accounted for 1.5% of the total farm operators. This number should be interpreted with caution because prior to 2002, the agriculture census collected information on only one farm operator (the principal operator) per farm. Since 2002, the census collects information on multiple farm operators when more than one person operates a farm. However, during the period (2002–2012), the new data collection method has been in place, the total number of black farm operators has increased by 10,212; this represents a 28% increase over this period (U.S. Department of Agriculture
2004
, pp. 54–55,
2009
, pp. 58–64,
2014
, pp. 58–65).
Nationwide, black farmers are older than others and still operate small farms. While the average American farm is 434 acres in 2012, the average size of black-operated farms is 125 acres. The average value of sales on black-operated farms is $36,052 while the nationwide average is $187,097. Table
2
shows that unlike their predecessors, most contemporary black farm operators own the land they farm. That is, 67.8% of the black operators are full owners of the land they farm and this accounts for 45.7% of the acreage farmed by blacks in 2012. Moreover, black tenant farmers are now playing only a minor role in farming (U.S. Department of Agriculture
2014
, pp. 58–65). Overwhelmingly, black farms are owned by an individual or family; 89.6% of black-operated farms fit this description in 2012. While the percentage of black farms operated by corporations has fluctuated since 1997, the percentage operating as cooperatives/estates/trusts have increased from 0.9% in 1997 to 1.4% in 2012 (U.S. Department of Agriculture
2014
, p. 63,
2009
, pp. 58–64,
1999
, pp. 25–26).
Table 2
Characteristics of black farm operators and the farms they operate, 1997–2012
Farm characteristics

2012

2007

2002

1997

Number of farms

36,382

32,938

30,605

18,451

Total acreage of farms

4,563,805

3,826,403

3,836,339

2,384,868

Size of farms

1 to 9 acres

4464

4265

2626 a

2012

10 to 49 acres

13,442

12,484

10,607 a

6053

50 to 179 acres

13,286

11,803

11,398 a

6137 b

180 to 499 acres

3912

3369

3557 a

3497 b

500 acres or more

1278

1017

902 a

752

Ownership status

Own land in farms

33,062

30,222

26,488 a

16,560

Number of acres farmed

3,064,850

2,555,302

2,196,264 a

1,499,083

Rented or leased farmland

11,700

10,056

9896 a

7259

Number of acres farmed

1,498,955

1,271,101

1,159,527 a

885,785

Tenure

Full owners

24,672

22,882

19,194 a

11,192

Number of acres farmed

2,085,524

1,952,699

1,650,583 a

1,095,093

Part owners

8380

7340

7294 a

5368

Number of acres farmed

1,987,764

1,510,725

1,410,676 a

1,068,343

Tenants

3330

2716

2602 a

1891

Number of acres farmed

490,517

362,979

294,532 a

221,432

Types of farms operated

Oilseed and grains

2839

2581

2767 a

2728

Vegetables and melon

1942

1826

1377 a

767

Fruit and tree nut

1093

1008

703 a

358

Greenhouse, nursery, and floriculture

434

423

288 a

170

Tobacco

138

248

925 a

1330

Cotton

201

213

408 a

358

Sugarcane, hay, and other crops

7324

6470

3521 a

1237

Beef cattle ranching

17,037

14,749

15,000 a

8966

Cattle feedlots

53

205

474 a

292

Dairy cattle and milk production

85

183

231 a

112

Hogs and pigs

436

708

1179 a

1213

Poultry and egg production

736

842

405 a

221

Sheep and goats

1086

827

288 a

111

Animal aquaculture and other production

2978

2655

1524 a

588

Organizational structure

Family-owned or individual

32,604

28,946

27567 a

16,858

Partnerships

2038

2763

1051 a

1156

Corporations

1244

809

241 a

262

Other—cooperative, estate, trust, etc.

496

420

231 a

175

Gender of farm operators (multiple operators)

Male

35,336

31,436

29,631

Female

11,246

9588

6739

Years on present farm

2 years or less

2174

2309

1690

924

3 or 4 years

2993

3229

2976

1325

5 to 9 years

7404

7768

7217

2379

10 years or more

34,011

27,718

24,487

8460

Age group

Under 25 years

678

630

213

78

25 to 34 years

1577

1452

668

667

35 to 44 years

3525

4057

2953

2467

45 to 54 years

8928

9185

7017

4309

55 to 64 years

14,449

12,332

7682

4349

65 to 74 years

10,948

8358

6449

2161 c

75 years or older

6477

5010

4108

4420 c

Average age (of all operators)

59.9

58.3

57.8

58.5
Contemporary black farmers have moved away from cotton and tobacco production and have diversified what they produce. Hence in 2012, 17,037 black farms were cattle ranches, 7324 grew sugarcane, 2839 farmed oilseed and grain, almost 2000 grew vegetables and melon, and more than a thousand reared goats and sheep, or operated greenhouses and nurseries. In contrast, that year there were only 201 black-operated cotton farms and 138 black-operated tobacco farms (U.S. Department of Agriculture
2014
, p. 62).
The Lawsuit Against the United States Department of Agriculture
Allegations of Discrimination Against Black Farmers
Black farmers have difficulty obtaining credit and this is at the crux of their grievances against the USDA. Between 1984 and 1985, for instance, the USDA lent about $1.3 billion to 16,000 farmers but only 209 of them were black. Black farmers were also affected by falling crop prices and high interest rates charged on loans. When farmers were unable to repay their loans, banks foreclose on their property. Not only were black farmers systematically denied disaster relief aid and loans offered to white farmers, it took an average of 60 days to process loan applications for white farmers while it took about 220 days to process loan applications for black farmers. Moreover, some of the loans made to black farmers were not approved till late in the growing season. Blacks also received about $21,000 less than white farmers in loans even though they managed similarly sized farms (Merem
2006
, pp. 88–92; Rural Coalition
2001
; Goffe
2002
, p. 43; Daniel
2013
; Pigford et al. v. Glickman
1998
; Pigford v. Glickman and Brewington v. Glickman
1999
; Congressional Record
2010
: S6836-S6837). A study of 348 Farm Service Agency loan applications in Georgia between 1999 and 2002 found that 57.6% of loan applications were approved compared to 39.2% of the loans of nonwhite borrowers. However, the study found that race was not a significant predictor of loan approval in multivariate models (Escalante et al.
2006
, pp. 61–75). The decline in the number of black farmers caught the attention of congress and led to an investigation into the cause of the decline. Black farmers identified the USDA as an agency that discriminated against them through the programs it ran and the way the agency responded to complaints. Blacks filed suit against the agency in 1997; the case,
Pigford v. Glickman
, was brought by 401 black farmers alleging that the USDA discriminated against them in the way they administered farm programs. The farmers also alleged that the agency failed to investigate complaints properly.
7
The programs in question were those administered by the Agricultural Stabilization and Conservation Service and the Farmers Home Administration. Together, the two programs administered loans and subsidies such as price support loans, disaster relief payments, and farm ownership and operating loans. The two programs ran until 1994 when they were folded into the Farm Service Agency. Though the programs operated with federal funds, the funds were controlled and disbursed by county committees. The county committees made decisions on who should get funding, how much they should get, and how expeditiously requests were processed. If farmers' requests were denied, they can appeal to a state committee and after that to a federal review board. Farmers who felt the denial of their application was racially motivated could file a complaint with the Secretary of the USDA or with the Office of Civil Rights Enforcement and Adjudication (Pigford v. Glickman
1998
,
1999
). Despite the fact that the USDA vested so much power in the hands of the county committees, these entities did not reflect the racial make-up of the communities they served. Though the Southeast region has the largest concentration of black farmers, in 1996 only 28 or 1.1% of the 2469 county commissioners in the region were black. In the Southwest region, 0.3% of the county commissioners were black. In fact, there were a total of 37 black county commissioners out of a total of 8147 nationwide.
8
The black farmers' law suit alleged that the county committees denied loans and disaster relief to blacks while those for similarly situated whites were approved. It was also alleged that the county committees took longer to process loans for blacks than for whites. Though farmers could send a complaint to the USDA, the agency dismantled its Office of Civil Rights in 1983 and from that time onwards complaints were not processed, investigated, or forwarded to the appropriate agency. As a result, farmers who filed complaints either got no response or a cursory notification that their request was denied. At the same time, farms were being foreclosed on despite the fact that complaints were filed and not processed. In 1997, the Office of Inspector General of the USDA acknowledged that the agency had a large backlog of complaints of discrimination that had not been processed, investigated, or resolved (Pigford v. Glickman
1998
,
1999
).
The Consent Decree
A Consent Decree between the USDA and plaintiffs was reached on January 5, 1999. The litigants in two law suits—
Pigford v. Glickman
and
Brewington v. Glickman
—were consolidated into one group of class action plaintiffs. The time of the alleged discrimination was limited to those occurring between January 1, 1981 and December 31, 1996 and farmers who were not a part of the original law suit but who met the criteria outlined above were allowed to join the class (Pigford v. Glickman
1998
; Pigford v. Glickman
1999
). If they chose the path that required the lowest burden of proof (Track A
9
), farmers filing successful claims were awarded $50,000, plus an additional $12,500 to pay the taxes owed on the settlement (Roth
2004
).
The number of black farmers making claims ballooned quickly. In 2004, the court-appointed monitor Randi Roth, testified before the House Judiciary Committee that there were 22,369 eligible claimants in the case. However, thousands more—claiming that extraordinary circumstances prevented them from filing on time—filed claims through the late claims process. In all, 96,189 claims were filed. As of 2009, there were 22,721 eligible claimants; 99% of these were track A claims. In all, 69% of the claims were approved. A total of $1,002,471,686 was paid out under track A by 2009 (Roth
2004
; Office of the Monitor
2009
).
Continued Legal Battles Between the USDA and Black Farmers
Despite the settlement, the relationship between the USDA and black farmers is characterized by acrimony and distrust. Since 2000, more than 14,000 complaints have been filed with the agency (Vilsack
2009
). There was also an ongoing controversy over what to do about the thousands of late claimants in the
Pigford
case that are considered ineligible. This was addressed somewhat in the 2008 Farm Bill that allowed for the late claims to be reviewed to ascertain if any qualified to be included in class action group. The bill also included a $100 million appropriation to settle the cases in addition to a provision to allow for more funds to settle cases if needed. In 2008, the National Black Farmers Association filed a lawsuit against the USDA on behalf of 823 black farmers (USA Today
2008
; Hagstrom
2009
). In 2010, the congress approved an additional $1.25 billion to settle approximately 61,000 additional discrimination claims
10
that had been filed by black farmers not covered by the
Pigford v. Glickman
settlement (Department of Justice
2010
; Congressional Record
2010
: S6836-S6837).
Black Farmers in Michigan
Black farmers in northern states like Michigan are often overlooked because they comprise a small portion of the nation's black farmers,
11
and they make up a modest share of the farmers in their state. Nonetheless, Michigan is important and interesting state to examine black farmers' experiences because of the complex relationships that has evolved over time between southern black farmers, black rural Michigan farmers, and black urban farmers in the state. The relationships are both competitive and collaborative and are rooted in kinship ties and culture, as well as the rhetoric of black empowerment, food sovereignty, and environmental justice.
Historical Context
Blacks found it challenging to obtain credit to purchase land and develop farms in Michigan.
The Contemporary Context
A similar partnership focused on black economic empowerment, food sovereignty, and increased consumption of healthy foods was attempted with the launch of Freedom Foods in Detroit in 2002.
Freedom Foods sought to facilitate the sale of produce from black farmers in Michigan and the South.
Discussion and Conclusions
Cooperatives and Community-Based Organizations
Blacks have farmed in America for four centuries, yet for that entire time, they have struggled to own and retain farmland. This is the case because a variety of institutional mechanisms were used to restrict black landownership. Moreover, once blacks gained ownership of farmland, systematic discrimination by government and non-governmental sources precipitated land loss. Discrimination took several forms, namely separate and unequal policies and services, segregation, isolation, inadequate resources, forcing blacks to live in hazardous places. In response, blacks have founded several institutions to help ameliorate their situation.
Heritage Tourism and Historic Preservation
In response, some black communities and black land owners have been exploring the idea of using heritage tourism and historic preservation as mechanisms for protecting black land ownership. The Penn Center located on St. Helena Island, South Carolina offers an example of a rural site that uses black heritage as the cornerstone of its farm-based preservation efforts. The Penn Center preserves its land, waterfront, trails, the Gullah language spoken by slaves, crops planted by them, the culture of the Gullah people, its historic school house built by freed slaves, museum, art, as well as its famed conference center and dorms that served as the meeting place for civil rights activists (Penn School
2017
). The 40-acre Freewoods Farm, located in Burgess (Myrtle Beach), South Carolina replicates life on a nineteenth century animal-powered African American farm. Freewoods has a museum, wetlands preserve, and a main street (Freewoods Farm
2017
). The 500-acre Smith Family Farm Park, located in Dinwiddie County, Virginia, relies on visits by black recreationers to supplement their farm income. The farm has been in the family for three generation and the five Smith brothers grow grain, raise cattle, and propagate fish in aquaculture ponds. They have converted 41 acres of the farm into a recreational park that is used primarily by black visitors for family reunions, horseback riding, and motorcycle club gatherings. The 14-acre catfish pond, horse trails, and all-terrain vehicle trails are popular (Freeman and Taylor
2010
, pp. 267–268).
Responses in Michigan
There are efforts underway in Michigan to preserve black farming traditions. The Michigan Food and Farming Systems
16
Women in Agriculture program in Genesee County runs a 3-acre farm that trains blacks and women of many racial and ethnic backgrounds to become farmers. Earthworks Urban Farm collaborates with the Capuchin Soup Kitchen to train aspiring black agriculturalists on their 2.5-acre farm in Detroit (Boehm
2017
).
Black-operated farms such as D-Town Farm also train black youths and community members to farm. D-Town is a combination farm and food-buying cooperative operated by the Detroit Black Community Food Security Network (White
2010
,
2011a
; Yakini
2010
,
2013
; Taylor
2000
,
2014
; Taylor and Ard
2015
).
The Southeast Michigan Producers Association (SEMPA) is a cooperative located in Sumpter Township that serves small- to medium-sized farms. Most of the members are black and they live in the Detroit to Ann Arbor corridor of the state. They aggregate their produce, certify, and market black farmers to help them gain access to urban markets, and schools in the area. The cooperative also seeks to reduce land loss among black farmers. There are about 50 black farmers in the region covered by SEMPA (Boehm
2017
; Michigan Public Radio
2012
; Barry
2013
). SEMPA collaborates with black farms, CanStrong Food Service Management, and the state's Farm-to-School Program to provide fresh fruits and vegetables to local schools (Tell Us USA News Network
2015
).
The relationships forged between southern black cooperatives, Michigan's black farmers, and Detroit's consumers still endure. However, these relationships require further study to assess their future viability. This is particularly true since the city now has a robust urban agriculture sector. To strengthen their economic position, Michigan's black farmers need to continue seeking new outlets for their produce.
They could look beyond Detroit to other cities within Michigan or to neighboring states. Black farmers can also expand their Farm-to-School operations and develop partnerships with restaurants, hospitals, and colleges and universities, etc. Black farmers in Michigan and around the country have adapted to changing social, political, and economic conditions in the past. They are taking steps to help them survive in the current agricultural climate.
Acknowledgements
This research was supported by funding obtained from the U.S. Department of Agriculture.
Open Access
This article is distributed under the terms of the Creative Commons Attribution 4.0 International License (http://creativecommons.org/licenses/by/4.0/), which permits unrestricted use, distribution, and reproduction in any medium, provided you give appropriate credit to the original author(s) and the source, provide a link to the Creative Commons license, and indicate if changes were made.