Published in: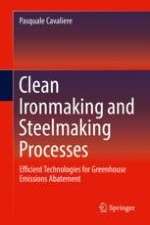 2019 | OriginalPaper | Chapter
1. Clean Ironmaking and Steelmaking Processes: Efficient Technologies for Greenhouse Emissions Abatement
Abstract
Steel demand is going to grow in the next future. With the present production routes, greenhouse gas emissions are destined to double by 2050 with a very remarkable effect on global warming. To face these problems, energy-efficient new ironmaking technologies must be employed and developed. Meeting the targets will require rapid and comprehensive implementation of mitigation technologies and measures that are commercially available today and emerging technologies that are still in the early phases of development. Among several greenhouse gases with different impacts on the air quality, CO2 is the main contributor accounting for about 60% of the greenhouse effect because of its huge and broad emission levels. Among all the industrial sectors, ironmaking and steelmaking one is calculated and measured to be the largest emitter of carbon dioxide and one of the users with largest energy demand. Obviously, the different adopted or to be developed solutions vary in different countries and regions because of fuels and materials supplies and prices. In addition, different government decisions and low limits drive the different choices. This chapter describes the main available technologies employed in the traditional or innovative routes capable of reducing the energy consumption and the dangerous greenhouse emissions. Being the limits of existing production techniques (mainly coal-based) reached, the development and implementation of new breakthrough technologies together with supportive energy infrastructure and services are required. Obviously the energy topic will be described taking into account the direct and indirect energy consumption per each analyzed technology. The methods to improve the energy efficiency are the energy consumption optimization, the online monitoring, and the energy audits.