07-01-2019 | Correction | Issue 4/2019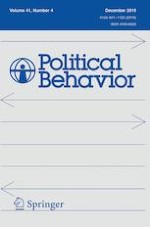 Correction to: Mass Media and Electoral Preferences During the 2016 US Presidential Race
Journal:
Authors:

Christopher Wlezien, Stuart Soroka
This erratum provides additional analysis and clarification relating to the original version of the article. Specifically, we provide further analysis of the cross-correlation function (CCF) between media tone and measured electoral preferences during the post-Labor Day general election campaign. The relevant results from Table 6 of the article are reported in the first column of Table
1
of this erratum. ...